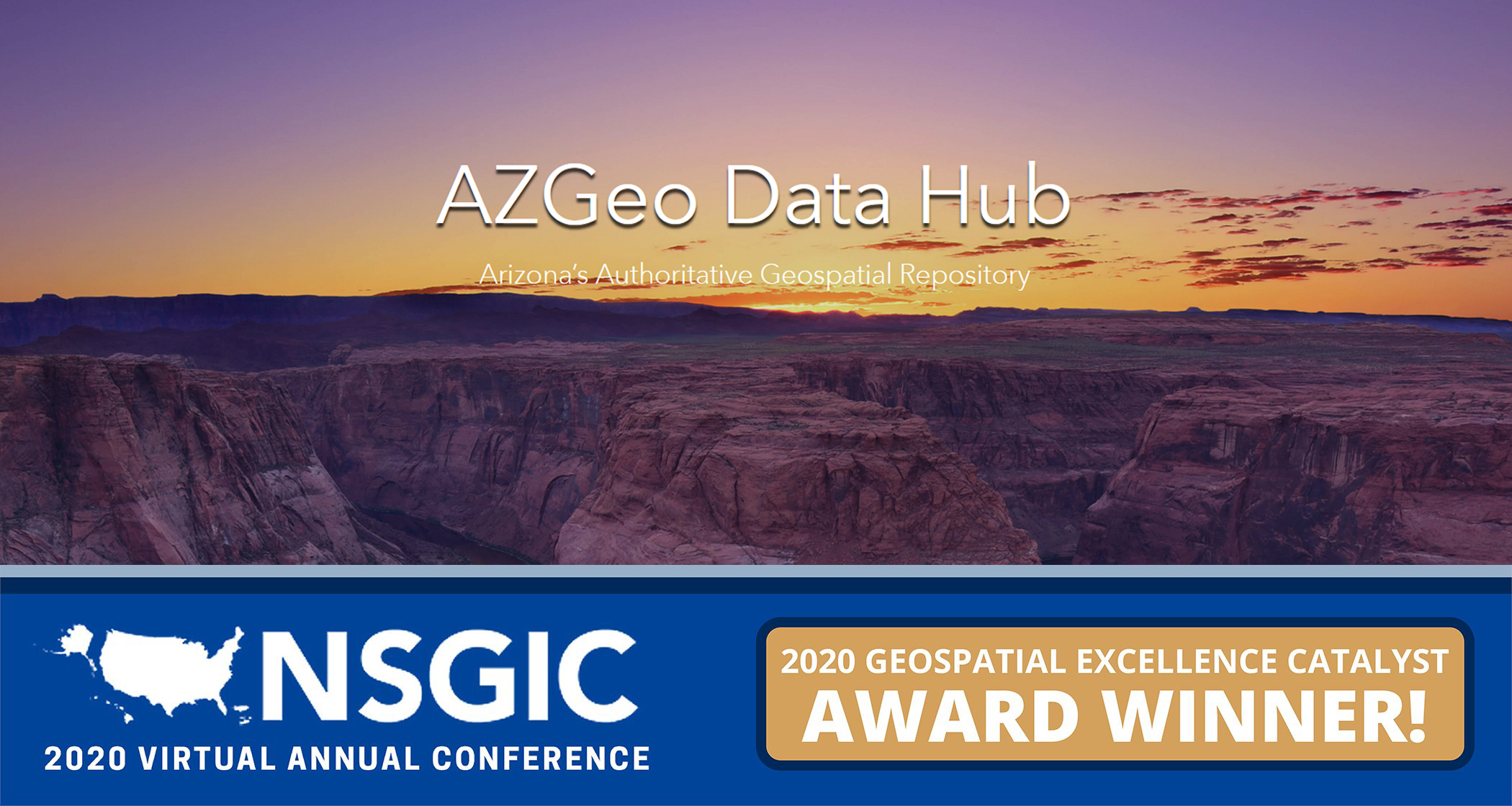 GRS wins Geospatial Excellence Catalyst Award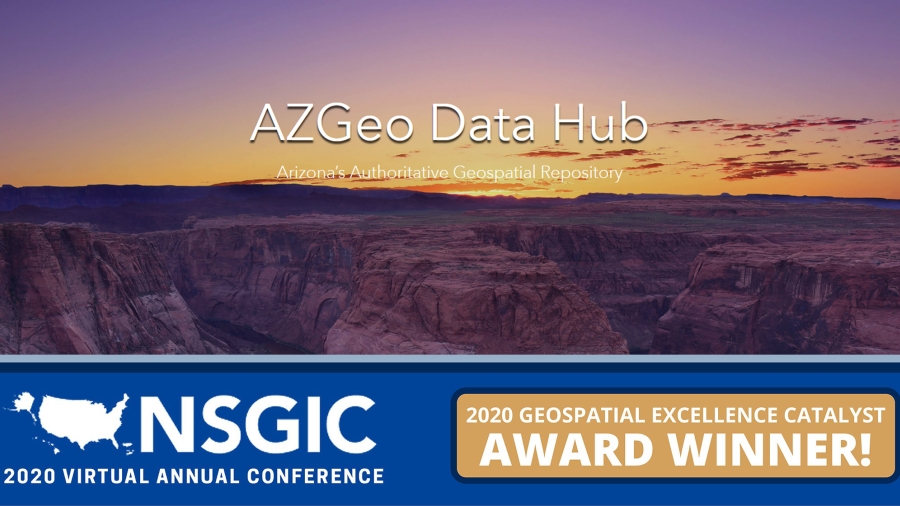 In September 2020, GRS was awarded the National States Geographic Information Council (NSGIC) Geospatial Excellence Catalyst Award for its project, "AZGeo Geospatial Data Hub." Some of the criteria for the award included creating a sustainable partnership or initiative for geospatial technology across multiple organizations and users, improving state or national spatial data infrastructure, and sharing of innovative best practices.
The rest of the ASU News article is below and at the link to the right.
Built in partnership with the Arizona State Land Department, the AZGeo Hub is a statewide open data repository that enables agencies across the entire state of Arizona to share and consolidate important data for public and private decision-making like never before. ASU's Geospatial Research Solutions partnered with the Arizona State Land Department to rebuild a statewide open geospatial data repository.
Launched in July of this year, the repository enables easy access to critical digital spatial data — city boundaries, parcels, rivers, land ownership, streets, etc. — that can be utilized by cities, counties, state and tribal groups, private companies and the public to support the needs of Arizona citizens.
"Creating geographic information system data is a long and complex process, but the great news is that the data that most people need already exist," said Shea Lemar, geographic information system senior project manager with Geospatial Research and Solutions, and lead of the project. "Unfortunately, there is a lot of inaccurate and incomplete data out there, and a person can spend hours searching the internet for data only to come up with useless results."
Enter the AZGeo Hub, which now serves as the authoritative data source for geographic information system (GIS) data related to the state of Arizona and can be accessed for free.
"Having a single data repository for people to find the authoritative data that helps them do their jobs has already saved hundreds of thousands of hours for GIS professionals throughout the state," Lemar added. "Those time savings are passed on as cost savings to the people of Arizona."
Supporting the needs of the Arizona communities
Beyond housing data and alleviating accessibility issues, AZGeo Hub also allows GIS professionals across the state to quickly and easily integrate applications in a shared site and collaborate on projects.
"Different cities, counties and state agencies have come together to share data and applications via AZGeo," Lemar said. "People are able to create groups on AZGeo where they can share data with a particular set of other people."
Currently, the AZGeo Hub has more than two dozen groups that are used by geospatial professionals to coordinate their work. Many of those groups create applications and tools for people throughout the state to use.
One of these applications, a collaboration between ASU, the Arizona State Land Department and the Department of Emergency and Military Affairs, allows streamlined access to comprehensive COVID-19-related data to help support the COVID-19 response.
Another tool, created by the Department of Transportation for public safety professionals, enables the ability to update and share data used in the Arizona 911 system.
"We are very excited to have won the NSGIC Geospatial Excellence Award," Lemar said. "NSGIC is comprised of some of the top GIS professionals from across states, and the fact that they think that AZGeo deserves the Geospatial Excellence Award is quite an honor.
"We get the most pleasure from seeing the ways in which AZGeo is used throughout the state to help support the needs of Arizona, but getting an award like this is definitely a nice bonus."
The AZGeo Data Hub is an initiative of the Arizona Geographic Information Council.